SwimWay Team Health & Safety Training – Summer Term 2018
It's that time again!  We enter into a new term, and the SwimWay staff has it's termly staff meeting.  An opportunity not only for the team to meet up face to face to discuss ideas and resolve any potential issues, but also for the ever-important health and safety refresher course.
These meetings are an incredibly important aspect for the SwimWay team.  As usual, an even split into two groups was made to ensure more focus and attention on individual needs in the sessions.  SwimWay MD Dan Pastor and Head of Swimming Tamsin Watt took the staff through operational matters, while in the second group our Consultant Dave Perry ran through the company Health and Safety practices.
Health & Safety Consultant Dave Perry discussing matters with SwimWay MD Dan Pastor
This term Dave focussed on several important aspects of health and safety:
Procedures and practices on site: Ensuring facilities are set up and broken down safely and securely before the lessons begin, and after they end.  Knowing the site fully, and being aware of surroundings and potential hazards.  Studying the most recent NOP and EOP for each location.  Always making sure the first aid kit is adequately stocked, and emergency contact information is correctly displayed.
Medical details for students:  SwimWay uses CoursePro software for its bookings system.  This allows our Account Managers to input any pertinent medical information for any person entering the water into the student's profile for the instructors to access.  Instructors should always be fully aware of each child's medical needs prior to any lesson to ensure a safe and protective environment for all.
Practices before, during and after incidents:  Based on any past incidents we have experienced, no matter how small, Dave took the instructors through all the best practices for incidents.  In a question and answer scenario, Dave carefully ensured each instructor under his supervision would be able to sufficiently and capably deal with any on-site incidents.
CPR Training:  As usual, Dave finished off the session with CPR training.  This is something that you can never practice too much and can mean the difference between life and death in some situations.  We value the safety of each one of our students, and take all aspects of this training extremely seriously.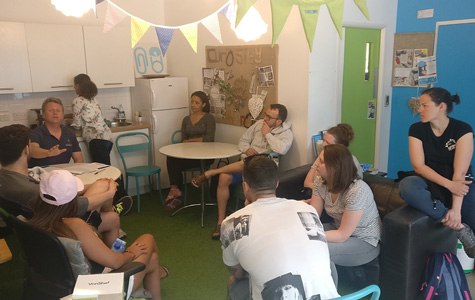 Dan and Tamsin ran their meeting together, taking the staff through operational procedures and teaching practices:
Standard operational responsibilities: Tying in many of the health and safety points that Dave dealt with, Dan ran through each instructor's duties and day to day tasks when in the employ of SwimWay.  From major to minor points, everything was covered to ensure a smooth and successful summer term ahead.
Presentation and first impressions:  SwimWay puts a lot of effort into ensuring our instructors all present themselves well before, during and after their lessons.  We provide SwimWay branded swim caps, rash vests, polo shirts, tracksuit bottoms, jumpers, and many other fantastic items to be worn in and out of the classes.  This not only provides brand recognition but gives a professional appearance for our clients.  Dan and Tamsin both also stressed the huge amount of importance on first and lasting impressions.  We always expect our instructors to meet and greet new students and their parents.  Taking a few minutes at the beginning of the first class of the term to smile and introduce yourself can go a long way in calming any first-time nerves any students or parents can have.  Maintaining this kind of interaction with new and old clients helps to create a positive learning environment for the children,
Assessments and SwimWay methodology:  Dan and Tamsin took all the instructors through a question and answer session to ensure that our students are correctly assessed throughout and at the end of every term.  Our CoursePro bookings system allows our instructors to continuously assess the children throughout the term.  Then near the end of the term, we have an "assessment week" where the children are taken through the skills and criteria for the stages they are working on.  The results of these assessments come in the form of the certificates and badges the children receive at the end of every term (and the SwimWay medals they receive at the end of the summer term).  It is incredibly important for our instructors to assess the children conservatively, and correctly.  Any over or under-estimation of a child's level can result in mismatches in 1:2 lessons.  This is something on which we work very hard to avoid.
Stage 4 and 5 lesson plans:  Tamsin then took the instructors through some of the training videos that were produced this year.  Her focus for this meeting was for stage 4 and 5 swimmers.  She showed the teachers different drills and methods to keep the children motivated in the classes.   She also carefully guided them through teacher positioning to ensure safety in the lessons is paramount.
The team finished off the evening with a drink at the local.  Another important part of the SwimWay ethos is promoting a friendly and sociable environment.  With our instructors and office team operating in so many different locations, it is sometimes tricky to get together as a team.  These staff meetings allow for everyone to touch base and maintain relationships.
Wishing all our lovely students and parents a happy, sunny and productive term ahead!