New SwimWay Swimming Lessons In Balham / Tooting Bec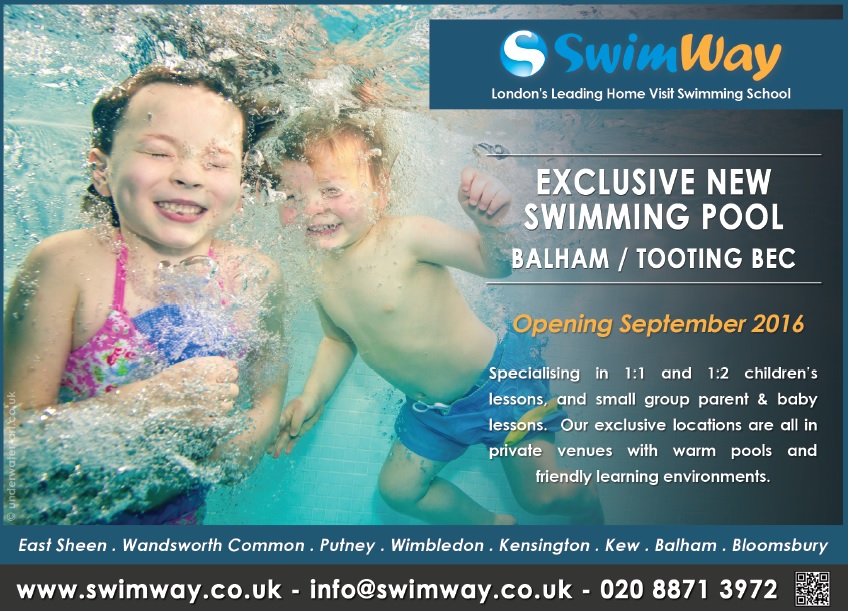 We are delighted to announce our new location opening this Autumn Term (September 2016).  Please see full term dates here.
Swimming Classes Starting September 2016
– Bookings Are Now Open!

The beautiful private venue is situated right next to Tooting Bec Common (Balham side).  A 15 minute walk from Tooting Bec and Balham stations, it is superbly located in a fantastic area, and we are very excited to get started!
The location has been designed with SwimWay lessons in mind, with a separate entrance and excellent facilities for our clients to enjoy.  The pool is 12m in length, and 1.3m deep.  We will be offering classes for parents & babies, and 1:1 and 1:2 lessons for children aged 3 – 9 years, up to stage 6 (please see details on SwimWay levels here).
This is the same time we open the priority rebooking period for our current clients for our other pools.  Thus, if you are currently swimming with us, you will have the option of either rebooking your current space with us, or moving to the new pool (no other change requests are available).  We will send a general email out at the same time as the priority rebooking emails are automatically generated announcing the opening of the bookings, and from then on it is a first-come first-served opportunity.  All our availability will be listed on our website, and the email will detail specific instructions on how to book.
Location: Elmbourne Road, SW17 8JR (full address provided upon payment)
Lessons Start: Monday 5th September 2016 (full term dates can be found here)
Pool Size: 12m
Pool Depth: 1.3m
Lessons: Children and Parent & Baby classes
Level Restriction: Maximum children working toward stage 6
Age Restriction: Maximum 9 years
Lesson Days/Times:
Children's Lessons ages 3-9 years
– Mondays, Tuesdays, Wednesdays and Fridays: 2:00pm – 6:30pm
Parent & Baby Lessons ages 6-36 months
– Mondays and Fridays: 9:30am – 12:00pm
Lesson Structures: Maximum of 1 x 1 : 1 lesson and 1 x 1 : 2 lesson running every half hour (3 children and 2 instructors)
Parking: Pay and display parking available on Elmbourne Road and surrounding roads between 9:30am and 4:30pm
Transport: Closest underground stations are Balham (0.7 miles) and Tooting Bec (0.6 miles) Stations