SwimWay Autumn Term 2018 Team H&S Training
Another year, another Autumn Term!  As we near the end of September and start to wonder where the time is going, it's a good time to look back at all the good work that has been done in a short amount of time!
On Sunday 9th September, the SwimWay team met up for its termly staff meeting.  An opportunity not only for the everyone to meet face to face to discuss ideas and resolve any potential issues, but also for the ever-important health and safety course.
As usual, the group was split between the SwimWay MD Dan Pastor and Head of Swimming Tamsin Watt, who took the staff through operational matters, and our H&S Consultant Dave Perry, who ran through the company Health and Safety practices.
Dan and Tamsin's meeting focussed on a few factors that we felt were important to raise with the instructors this term:
Life-saving skills:  Tamsin spoke in depth about the importance of life-saving skills in the SwimWay methodology.  How incorporating these in every lesson does not need to be a chore, or take over the whole class.  Children learn from having fun, and like most exercises, the life-saving skills can be done in a fun and informative way.  Tamsin has since added more of these exercises to the SwimWay instructor training videos, which our coaches have regular access to help them improve their teaching skills.
Standard operational responsibilities: Tying in many of the health and safety points that Dave dealt with, Dan ran through each instructor's duties and day to day tasks when in the employ of SwimWay.  From major to minor points, everything was covered to ensure a smooth and successful summer term ahead.
Assessments and SwimWay methodology:  As usual, Dan and Tamsin took all the instructors through a question and answer session to ensure that our students are correctly assessed throughout and at the end of every term.  Our CoursePro bookings system allows our instructors to continuously assess the children throughout the term.  Then near the end of the term, we have an "assessment week" where the children are taken through the skills and criteria for the stages they are working on.  The results of these assessments come in the form of the certificates and badges the children receive at the end of every term.  It is incredibly important for our instructors to assess the children conservatively, and correctly.  Any over or under-estimation of a child's level can result in mismatches in 1:2 lessons.  This is something on which we work very hard to avoid.
Company future and expansion:  An exciting mention was made during the meeting about the possible future expansion of SwimWay Swimming School.  Dan likes to keep things under his belt, but hint at possibilities in the meanwhile.  So in his fashion, we will leave this note here, and not say anything further except… WATCH THIS SPACE!
Personal admin and invoicing:  Our finance manager, Cheryl Harvey, then had her moment in the limelight!  She took our instructors through a very important part of their job – getting paid!  Being able to track and manage your finances is of utmost importance and Cheryl gave an extremely helpful short presentation for the team to ensure they are following the correct procedures when invoicing for their work.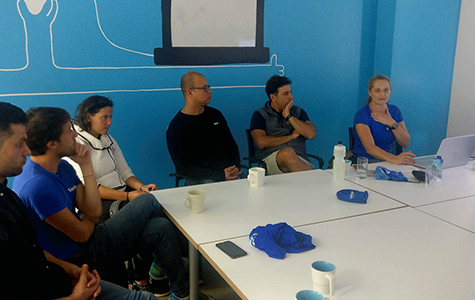 As usual, Dave refreshed everyone on important procedures and practices that have been put together for the team.  Repeating these with our staff every single term ensures there is no hesitation when there is an incident.  We work extremely hard to make sure our instructors are on the ball, and ready for any eventuality.
Procedures and practices on site: Ensuring facilities are set up and broken down safely and securely before the lessons begin, and after they end.  Knowing the site fully, and being aware of surroundings and potential hazards.  Studying the most recent NOP and EOP for each location.  Always making sure the first aid kit is adequately stocked, and emergency contact information is correctly displayed.
Medical details for students:  SwimWay uses CoursePro software for its bookings system.  This allows our Account Managers to input any pertinent medical information for any person entering the water into the student's profile for the instructors to access.  Instructors should always be fully aware of each child's medical needs prior to any lesson to ensure a safe and protective environment for all.
Practices before, during and after incidents:  Based on any past incidents we have experienced, no matter how small, Dave took the instructors through all the best practices for incidents.  In a question and answer scenario, Dave carefully ensured each instructor under his supervision would be able to sufficiently and capably deal with any on-site incidents.
CPR Training:  As usual, Dave finished off the session with CPR training.  This is something that you can never practice too much and can mean the difference between life and death in some situations.  We value the safety of each one of our students, and take all aspects of this training extremely seriously.
Once again, the team finished off the evening with a drink at the local.  It is always important for everyone to take the time to mingle, and create a friendly and sociable environment for the company.  With our instructors and office team operating in so many different locations, it is sometimes tricky to get together as a team.  These staff meetings allow for everyone to touch base and maintain relationships.
Here's to a successful Autumn Term ahead!