SwimWay Summer 2017 Hawaiian Party!
To celebrate the close of another successful year, the SwimWay instructors, management team and pool owners met at the wonderful Bumpkin Chelsea for fun, feasting and merriment!
The management team runs it's twelve exclusive London Venues from the SwimWay Putney Offices.  The opportunity for the entire SwimWay team to meet up and mingle as a single group outside of the pre-term staff training sessions is something that everyone looks forward to.  The Summer and Christmas Parties provide these occasions, and this year's Hawaiian-Themed celebration was one to remember!
The early arrivals enjoyed a pre-dinner drink and catch up with their colleagues in beautiful surroundings in the heart of Chelsea.  The SwimWay Facilities Manager and instructor Ana Pastor pulled out all the stops this year, not only organising a wonderful venue, but dressing it to the nines!  The friendly and helpful staff of Bumpkin Chelsea added to the festive atmosphere with an abundance of warmth and smiles.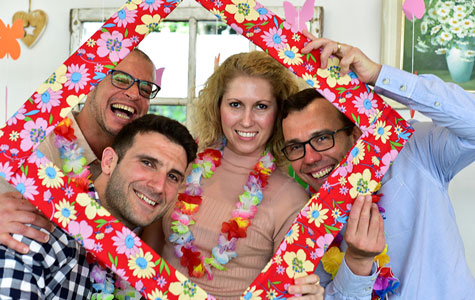 The three-course meal was exquisite, and no one was left hungry on this hot summer's evening!  After dessert was avidly wolfed down, The SwimWay MD Dan Pastor stood up to offer a heartfelt thank you to everyone who makes SwimWay a possibility.  This is a team of committed, hard-working people who truly believe in the work they do.
Following a short introduction, Dan moved on to announce 2017's instructors and staff members of the year.  Every Summer Party, these announcements are made to recognise those who have gone above and beyond in their work throughout the year.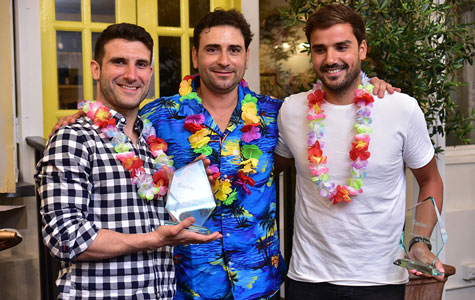 Instructors of the year for 2017 went to two of our top teachers:
Alejandro started with SwimWay in Autumn 2016, and quickly hit it off with children and parents alike.  Proving himself a reliable and capable individual, he became the Balham Pool Head Coach within two terms, and will be working there 6 days a week from the start of our Autumn Term.
Filipe has been in the SwimWay Team for a number of years now.  His unique, focussed, gentle but firm approach has helped hundreds of children through the years.  He is an absolute asset to the team, constantly contributing.  Next term he can be found at our pools in Kew Gardens, Wimbledon, East Sheen (The Mall), and Kensington.
Staff Members of the year for 2017 went to our longest-standing managers:
Tamsin and Will have been working in the SwimWay Offices since 2008.  It was just Dan and the two of them in a tiny office in East Putney.  They always laugh at the memory of those days, working in an incredibly hot office with the loudest air conditioner in the world!
It is wonderful to see how far things have come since then.  Tamsin and Will both spoke at the party about how watching and helping the growth of the business provides an incredible amount of professional satisfaction.  Now with the help of a larger in-office management team, and the best instructors London has to offer, it is an exciting prospect to think about what is to come in the future…